babygray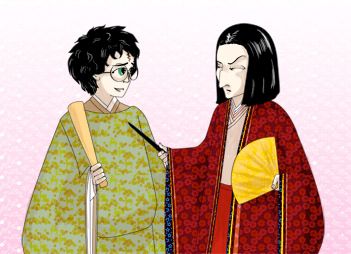 I worked on A Series of Events this week! Calloo callay!
I would have written more this week (and maybe finish the next chapter by now), but I was doing other things, such as:
- watching over 50 episodes of
La Mujer del Vendaval
(A telenovela I don't immediately hate? Yay!)
- trying to speak Japanese with a bad Mexican accent
- celebrating my birthday with way too much pizza (so much pizza that I was in actual physical pain)
Speaking of my birthday, years ago, I decided to celebrate it with a bit of fanfic/fanart crossdressing. Maybe, back then, I thought the idea of men in dresses was funny as-is. (Though Banana Yoshimoto's
Moonlight Shadow
and the teen boy wearing his dead girlfriend's school uniform in-story probably played a part...) I don't do it every year, but sometimes I do, which is my excuse for tonight's doodle.
Well... not the only excuse.
Hina Matsuri
is on Monday, hence the Heian period dress. I also like putting
Snape
in
female
clothing
. If I do it one more time, I get a free cauldron cake!
... I wonder what they're saying...