babygray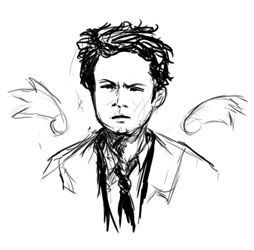 It's been a rough couple of months. May was just awful, but June went pretty well, despite lack of money and
near-constant
rain. Hell, I wrote 4 whole pages this past month. That calls for a celebratory drink! (Chocolate milk and vodka.)
Worked on "A Series of Events" today, but my heart still isn't all that into it. My mind kept wandering to:
-
The Half-Blood Prince
movie, the first Potions class, and how more and more
flustered
the makeup people made Hermione look every time they cut to her. I get that it's to show how hard it is to brew the Draught of Living Death, and how easy of a time Harry was having with it, but it was so
ridiculous
that Hermione's
flustered
hair is all that I remember.
- What story had Severus berate Neville for nearly killing Harry in class? And by "berate", I mean verbally flay poor Neville alive for his exploding potion. I hate it when I forget the name of a story I
really
liked (or was at least memorable). (But I refuse to actually try to find it right now. I have enough distractions as it is without adding "needle in haystack search" to the list.)
... Guessing from my stray thoughts alone, it's not that hard to guess just what the next update of this too-long, too-
old
story is going to involve. I wish I had finished this story
years
ago.
... I should get back to working on it instead of complaining about it here, huh.
Sketch is a quickie of Castiel from
Supernatural
. I've been watching a
lot
of Supernatural lately.