babygray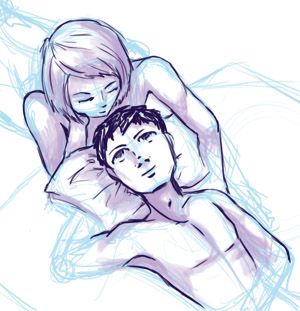 When it comes to gettin' shit done during summer vacation, I have a terrible track record. This summer doesn't seem to be any different, but it's only been five days. Can't give up hope yet.
The first draft of the next chapter of "A Series of Events" was finished two weeks ago. I had planned to post the revised/edited draft by now, but I got distracted. (Oops.)
Harry Potter Land* over at
Universal Studios Japan
opened last week, which pretty much decided for me where I'm going this summer. The hotel's booked for mid-August/
O-bon
; I'm already dreading the peak season crowds and the timed entry tickets I'll probably have to buy.
*The official name's too much of a mouthful.
Doodle: I was trying something, and I failed/gave up at the last minute. It was very nearly some Snarry fanart, but I can't see Snape and Harry lying around like that. (I have a crappy imagination.) So they're expies of Snape and Harry? Totally different. ... I should have at least given them hands, huh.