babygray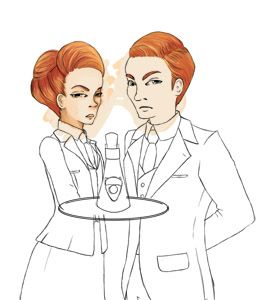 Gosh... I wonder. What game have I been playing lately?*
The heat has been almost unbearable lately, but this summer hasn't been bad. I work for an hour or two every other day, which isn't a lot, but it keeps me from staying at home for weeks, going stir-crazy and depressed.
I have to get back to writing. I've been lazy, and reading/playing video games is easier. Hell, drawing is easier. Which means I'll have to spend the next two, three days writing, lest I start to feel
really
guilty.
But... that'll have to wait until I finish this, which I'm hoping will be the first "completed" drawing I've done since.... January?
Trip to Harry Potter Land is next week. A co-worker who had been to USJ recently said there was a 3-hour waiting time for the HP rides.
And here I am, planning to go at the peak of summer vacation. It's gonna be awful, isn't it...
*I love
Bioshock Infinite
's Lutece Twins, particularly Rosalind. ...I might have a weakness for "quirky" redheads in masculine wear. Honestly, I want her clothes,
complicated underthings and all
. (Does it look like she's holding that plate, or am I just being lazy again...)