babygray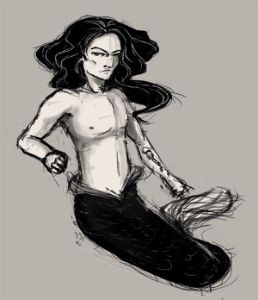 This week has been busy. I have forgotten how to deal with work, and I might have hit an energy upswing. It's the only thing I can think of to explain the current need to do
something
everyday.
(The only other reason I have is
freaking Tumblr
.)
I went insane and
drew up a comic based on a Supernatural episode
. Insane because I... think I wasn't so much doodling as painting, and I don't even know how to paint. (I am still ridiculously proud of myself.)
Today's doodle is based on "
The Prince and the Merman
". I've been thinking of writing out another version of the first draft for chapter 2. (That sounds more complicated than it should.) But I'm a coward, so I drew a picture of Snape as a merman instead of, you know,
actually writing
.
... I think I'm improving...