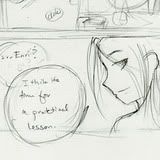 My twenty-four hours are over, and what I have to show for it is a very brave, very noble failure.
I'm not sure yet whether it's a Gaiman variation (in which I leave the comic as is after the 24 hours) or an Eastman variation (in which I continue working on it), but I'll figure it out soon enough.
The plot? Uh... there's a boy with some super powers, but they were lost or something and all he can do now is blow things up, especially when he's upset or excited. He lives with a chick with fire powers and is infatuated/training with a guy with wind powers.
Not that any of this is clear in the pencil work. (Which is why I'm telling you. yeah.)
( The whole mess... is behind this cut. )