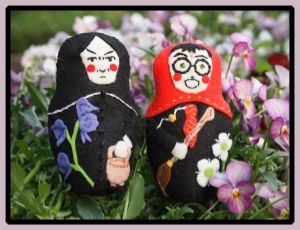 Here is the results of the hours upon hours of work I've put into these dolls this week: Snape and Harry as Russian Nesting Dolls.
The basic body came from a pattern from a calendar. Everything else I had to draw out by hand (or trace, in the case of Severus' flowers). The hard part for me was being decisive enough to put it all together. The tricky, meticulous bits (particularly Snape's face) were not nearly as hard as I feared. In fact, it was almost relaxing, making them.
All in all, I'm glad they're finished. Just don't think I'll be making more of them any time soon.
The flowers... I don't have
many
any readers, but if you can name the flowers, I'll give you a prize of some sort (not the actual dolls, probably, but...) I guess I can keep that as my little secret
for now
under the spoilers tag.
Harry's decorated with holly flowers. Severus is decorated with monkshood. Or is it wolfsbane...
I posted a larger version of this picture on dA [
link
].