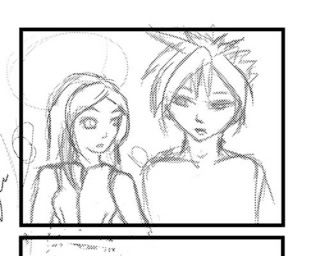 After working on a four-panel strip for a couple hours, I ignored it for a while. The first thoughts that entered my mind when I came back to it later in the day were:
Look at how plain and lifeless they are! No one would want to read a comic with them looking as disinterested and boring as this!!! Oh, woe is me, a failure, a fool to believe I can draw characters with real emotions, and not dolls, not flat, uninteresting things with big boobies and unnaturally spiky hair!!!
The comic is a special for a serial I did last year, Tiffi and the Mystic Chicken. At some point, I'm pretending that they are talking about Cloudkins' 'boyfriend'. If I actually finish it, I'll write more.
Peace out! ^_^