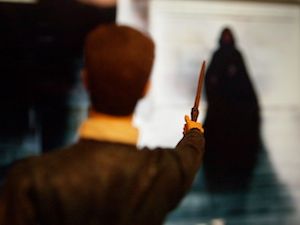 I've been back home in the States for a week, so far it's been great. Just being able to spend time with my family is enough for me.
The photo
is a combo of an image on the computer screen and
a Harry Potter action figure
. I
won the doll years ago
from

pottersues
, but I had it sent here instead of where I live (shipping to Japan is expensive, man). I had thought of trying my hand at another of their contests, but I haven't felt motivated enough to do so.
I have done very little writing this past week, what with family and American TV to spend time with. There was also the small issue of "THE STORY ISN'T WORKING."
I finally had a breakthrough today. As I explained (in simple terms, out loud, to my mother) what the story was about, and what I had written so far, I realized: My opening scene is boring. No action-packed story should start with, "We should do something. Should we do something?" It needs punch! It needs a hook! it needs a
Cold Opening
!
So I'm full of coffee and with mini Harry P at my side, I'm ready to tackle that story from a different angle.
(And I'll probably post/recycle the rejected opening later... It's not a bad scene. It's just... not the right opening for the type of story I have in mind.)
---
My poor Kindle is broken. Torn between fixing it or buying a fancy new one.
Harry P needs a companion. Though
a Sevvie Snape doll
from the same maker/collection is hard to find/darn expensive.
... For some reason, I'm trying out the LJ Talk feature tonight. Because I need to be distracted?