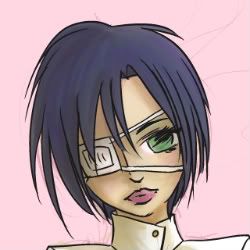 God, I love this picture. Sexy... androgynous... eye patch... even the white jacket is interesting.
... How bad is it that I'm enamored with my own scraps?
Last week's webcam pic:
So cute in pink... and such big hair!
Before that:
A weird self-portrait, I think...
Before THAT!:
More big hair, now with Disney eyes...
And before that:
Lackluster effort in green and yellow.
And before that:
Girl and Cloud Monster!
... One sucky pic out of six isn't
too
bad...
Love and peace!