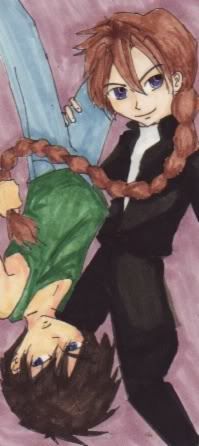 I don't know why this scan came out so blurry....
This was a pencil drawing from way back, Feb. 2006 to be exact. It was in my pile of old notebooks and things, and I had this urge to ink it, color it, and be done with it.
Heero looks awful, I think. And their heads are too large and their bodies are too thin.
I would like to think my artwork has gotten better.
Also: I posted my first deviation in a long time yesterday, a Harry Potter/Star Wars fusion thingie or another. You can find it
----->here<-----
. I have mixed feelings about how it came out, but it also features Harry Potter in a Slave Leia outfit, so it's aaaaaaahhhhlllllll gooooooood.
Until next time,
Love and Peace!!!